Product reviews drive eCommerce sales.  HINGE GLOBAL's listing quality audit data shows that the number of product reviews has the biggest impact on sales ranking (more than any other product detail element).  On Amazon, product reviews have a flywheel effect – the review count and the review rating will impact a product's sales and revenue, which in turn will drive Amazon's search ranking algorithm, and impact the product's likelihood of winning the Buy Box.
Given the importance of both product reviews and seller feedback in driving sales on Amazon, sellers should collect customer feedback on as many product orders as possible.  Within Amazon Seller Central, sellers have to click through each order and select "Request A Review" to send an Amazon survey. As a result, manually requesting this feedback is time-consuming, especially if there are a lot of orders.  HINGE Axis automates this process. 
HINGE Axis Automated Review Request
HINGE Axis enables review surveys to be automatically sent out for any order that meets predefined criteria set by the user.  Within the HINGE Axis Orders module, users can customize when review surveys are sent (within 5-30 days from product ship), what days of the week surveys are sent, the time of day that the surveys are sent, and whether they are sent out for FBA orders, FBM orders, or both.  The automated Review Request also allows sellers to exclude items that they do not want to ask for feedback (e.g., because the item is being discontinued).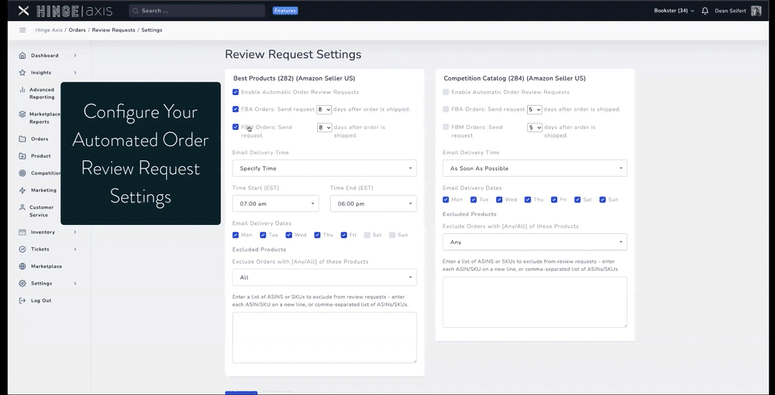 HINGE Axis's Review Request sends out the product review and seller feedback survey using Amazon's email template.  This ensures that the survey stays compliant with Amazon's policies.  Because of Amazon's strict protocols associated with customer feedback collection, by using Amazon's email template, the platform avoids putting the account at risk.
HINGE Axis makes it easy for sellers to put their customer review request process on autopilot, saving sellers time while also driving sales.  The platform also enables sellers to analyze and filter their customer reviews easily within the Customer Service module.
Amazon Product Ratings / Amazon Product Reviews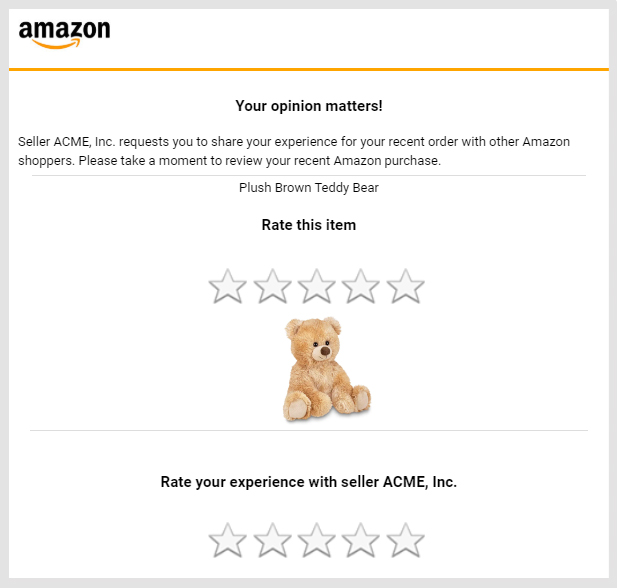 In September 2019, Amazon changed its customer review process, allowing shoppers to simply leave a star rating, with or without a review.  Previously, all customer feedback required both a star rating and a written review.  As a result of this change, the number of ratings has skyrocketed, and this feedback reflects both those with only a star rating as well as feedback with commentary.
As a result, Amazon shoppers now use the rating count as an indicator of sales volume of a product.  HINGE GLOBAL's analysis of listing quality data shows that items with higher review counts will achieve higher sales.  On the other hand, the key threshold for average product ratings is a 4.0 or higher.
What is Seller Feedback and why does it matter?
Like product reviews, Seller Feedback is also measured as a 5-point star rating.  However, unlike product reviews, Amazon seller feedback reflects customers' experience with the seller's shipping performance, their customer service experience, and how product returns are handled. Customers can give seller feedback each time they buy a product from the seller. The seller feedback score can affect a seller's ability to win the Buy Box.
To learn more about HINGE Axis Automated Review Request, please book a demo today.